EddyCus® CF Portable 1010 - Contact Handhelt FAW and Isotropy Tester
Look­ing for a handy tool to quickly check spe­ci­men or pro­duc­tion? The CF port­able is a non-de­struct­ive solu­tion that en­ables fast con­trol of fiber areal weight or de­gree of ori­ent­a­tion (iso­tropy) of car­bon fiber ma­ter­i­als. Typ­ic­al ap­plic­a­tions are re­cycled products or car­bon fiber stacks.
Ad­vant­ages
Fast meas­ure­ment of FAW
Quick check of iso­tropy
Char­ac­ter­ist­ics
Ref­er­ence based quant­it­at­ive meas­ure­ment of con­duct­ive ma­ter­i­als
High sens­it­iv­ity for low con­duct­ive ma­ter­i­als
Iso­tropy meas­ure­ment of ran­dom or strongly-ori­ented car­bon ma­ter­i­als
Easy to use with touch screen and simple menu
Cus­tom­iz­able cal­ib­ra­tions to ex­pand the ap­plic­a­tions
Soon: probes with cus­tom­iz­able shapes to match your part geo­metry
Ap­plic­a­tions
Car­bon fiber areal weight for re­cycled car­bon material
Uni­form­ity of fiber spray­ing pro­cess
Meas­ur­ing the car­bon fiber volume con­tent (CFC)
De­term­in­ing the dom­in­ant fiber angle in CF-SMC
Con­duct­ive particles in res­in
Meas­ur­ing thick­ness of con­duct­ive coat­ing
Meas­ur­ing over­laps of met­al meshes for light­ning pro­tec­tion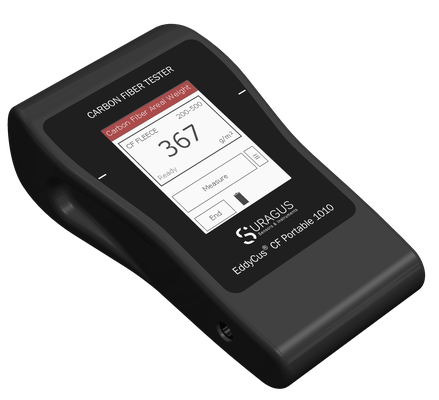 Measurement of Fiber Areal Weight: EddyCus CF portable FAW
The advantage of the EddyCus CF portable FAW for your applications is that you are enabled to measure:
No preparation needed
Precise determination of fiber areal weight
Immediate data evaluation
As the measurement can be achieved at every spot of the measurement object the handheld device is helpful during the manufacturing process. 
Applications
Carbon fiber areal weight for recycled cf
Measurement of carbon fiber isotropy: EddyCus CF portable isotropy
The EddyCus CF portable isotropy device is a crafty tool to measure: 
carbon fibre material for the fiber uniformity
isotropy strength
Receiving this information quickly the EddyCus CF portable isotropy device is an excellent tool for the daily working routine. 
For example, during the moulding process of recycled SMC the resin flow can change the isotropy. Using the measurement opportunity of the EddyCus CF portable isotropy device, the evaluation allows the actual moulding process to be improved.
Characteristics
Isotropy measurement of random or strongly-oriented carbon materials
Applications
Discontinuous carbon fibers
Chopped long fibers