EddyCus® TF map 5050CT - Conductivity Mapping and Defect Identification in Thin Films
A variety of materials characteristics determine the conductivity of materials. Next to its composition also its structure and its purity affect the conductivity. The Eddy­Cus TF map 5050CT is an eddy current mapping system dedicated to high-resolution imaging of conductivity and correlated characteristics exposing material properties, effects and defects. The system can be equipped with various EddyCus sensors for conductivity imaging in high resolution or high penetration and defect detection by use of differential probes. The system supports the creation of images (Eddy Current C-Scans) of the surface with a measurement pitch of 100 µm to 10 mm. The three axis systems is capable to scan 2D and 2.5D areas with a size of up to 500 x 500 mm / 20 x 20 inch. Typical applications cover the surface characterization of conductive materials such as SiC-, Graphite-, metal, alloy or steel plates or other conductive semi-finished products. Additionally, the system can be used for testing the electrical integrity of printed electronics and layers.
Eddy current testing allows the quantification of material conductivity [IACS or MS/m] or resistivity [Ohm m or Ohm / mm² / m]. The conductivity of materials provides information on material characteristics such as type of material and homogeneity of the material composition. Next to the direct information on electrical properties, the conductivity also contains information that relate to its thermic properties or its mechanical properties and its structural integrity.
Specification
Measurement range : 0.1 – 110 % IACS
Specimen sizes : 5 x 5 mm to 500 x 500 mm
Shapes: flat and curved surfaces
Exchangeable sensors dedicated to specific measurement task
Customized specimen holder in terms of layout and shape in favor to specimen dimensions
Data analysis, export and reporting functions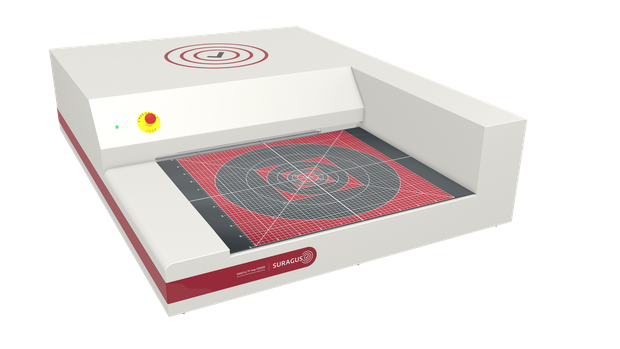 Conductivity determination and conductivity imaging provides insights on:
Material types and material purities
Evaluation of material composition and composition variation
Impurities/ dotation
Variances in structure and structural integrity
Solidification behavior of casted materials
Conductivity-affected characteristics such as hardness, stress, grain boundaries and other characteristics
Material sorting and material classification is achieved by allocating the measured conductivity to the corresponding material types. This a quick and reliable method to separate materials and its alloys in various applications, especially recycling applications.
Applications
Ensuring constant material composition and quality
Uniformity control and examination of layer homogeneity.
Material classification / sorting
Defectoscopy and layer analysis
Quality control for hardening, annealing, sintering, welding, oxidation processes etc.  
Material qualification for  electrical discharge machining (EDM) processes
Quality control for structuring, coating and ablation processes
Advantages
High-resolution measurements with 0.1 – 10 mm measurement pitch (pixel size)
Penetration depth control by frequency variation (10kHz – 100 Mhz)
Sensor spot sizes from 0.5 mm to 10 mm
Contact and non-contact measurement
Advanced Eddy Current evaluation software EddyEva for defect analysis and effect separation
Materials and layers 
Metals and alloys
Semiconductors
Carbon based materials such as Graphite
Conductive ceramics (SiC)
Metal layers and meshes
Processes
Casting and sintering
Tempering and annealing
Coating and deposition such as PVD, ALD, (PE)CVD, electroplating, printing, cast­ing, spraying etc.)
Ablation (etching, polishing, laser, eroding etc.)
Doping
System usability 
The system allows a fast, user-friendly mapping of the surface conductivity and surface defects of flat and curved samples. There are various sensors with individual sensitivities and spatial resolutions customized for different material systems available. Various measurement recipes are available dedicated to specific measurement tasks.
The operation of the system is most straightforward: The user places the sample, loads the specific measurement recipe (eg. conductivity or pass / not pass), starts the measurement and readily obtains eddy current high resolution images. The results can be analyzed and exported by an automated pdf-report option.
Device control and software
Control via touch panel
Easy setup of scanning parameters
Pre-defined measurement recipes
Storage and import of measurement and mapping data
Export of data sets (eg. to EddyEva, MS Excel, Origin)
User-friendly PDF reporting for sys­tematic documentation
Advanced Eddy Current Analysis Software EddyEva
Multi-purpose measurement image (C-Scan) analysis software (applicable to different metrology technologies)
2D and 3D data evaluation
Dynamic GUI design (flexible docking concept)
Advanced impedance analysis
Allowing various data views
Standard and smart evaluation algorithms (filtering, FFT etc.)
Defect / effect size determination
Determination of evaluation recipes
Saving and applying existing recipes on new data sets
Automated PDF and word file reporting
Loading and reanalyzing data sets
Determining, saving and loading evaluation projects
Manual and automated determination of regions of interest (ROIs) and automated ROI evaluation
Anomaly detection and structural analysis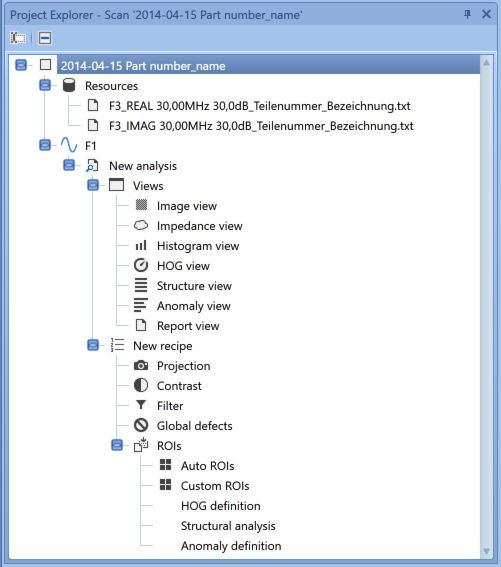 Another conductivity measurement devices