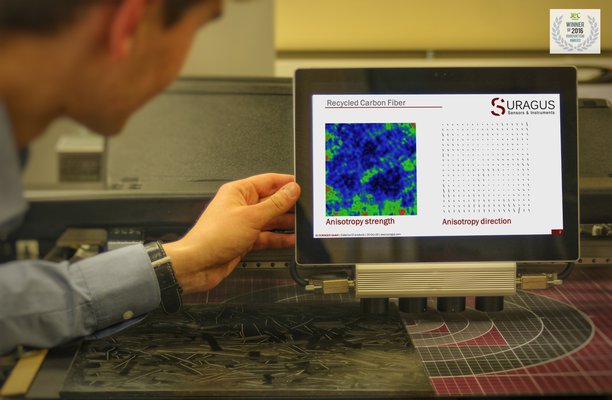 Mr. Richard Kupke, Director Product Management of SURAGUS, was obtained with the JEC Award 2016 in Singapore.
"With SURAGUS' new sensor and algorithm system `´ it is possible to assess the uniformity and isotropy (alignment) of discontinuous carbon fiber materials", Richard said.
Furthermore, Richard went on that "Especially for recycled carbon fibers (rCF) the two decisive properties on product quality and integrity are fiber orientation or degree of isotropy and the fiber distribution or weight uniformity. The EddyCus CF iso determines both properties non-destructively and non-contact. Therefore, it can be used during manufacturing, also for not yet impregnated or injected fiber, as well as in post-production quality control."
This development is next innovation step towards an enlarged lifecycle cycle for carbon fiber material. By using these new process steps, it is possible to qualify the recycled carbon fiber material and be enabled to use the recycled carbon fiber in production again. This qualification process gives the opportunity to save cost and the environment.
Richard explains: "This new method offers a distinct additional value compared to alternative technologies as these are only able to provide one parameter, e.g. Beta-ray measure weight and optical systems the fiber angle. Based on the long-term proved eddy current testing sensors the SURAGUS innovation comprises of a new sensor design with sensor focus and specialized algorithms to measure both fiber areal weight and bulk prevalent orientation for rCFRP or CF-SMC. It is a non-contact high frequency eddy current solution, which allows for inline and offline testing to determine isotropic or anisotropic character of chopped or continuous fiber parts for semi-structural or safety-critical use."