SURAGUS GmbH has been named the winner in Solar Cell Testing Technology category at the 6th International HJT Leading Mass Production and Supply Chain Supporting Collaboration Forum in Wuxi, Jiangsu, China on 13th January 2022 and conferred with "2021 Heterojunction Solar Cell Testing Technology Innovation Award"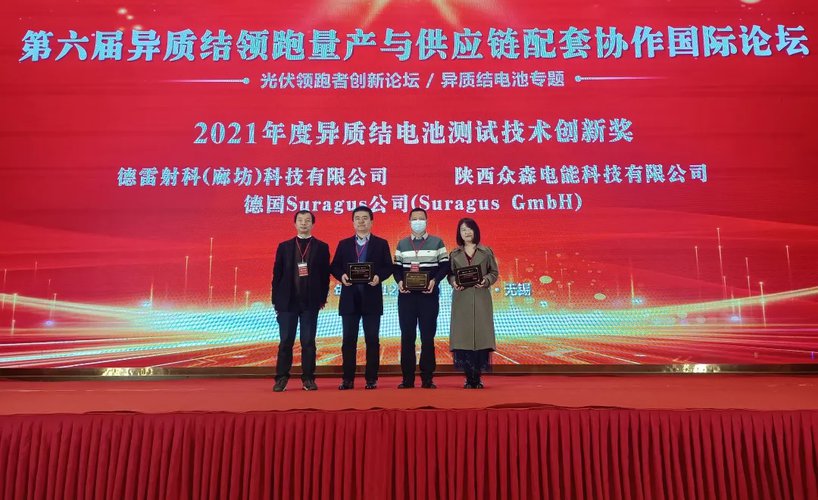 SURAGUS won the award for developing innovative and efficient testing methods for heterojunction (HJT) solar cell technology by successfully cooperating in strategic photovoltaic (PV) projects in China.
In Si-based PV manufacturing, SURAGUS offers inline sensor integration solutions for the inspection of incoming wafer resistivity, sheet resistance measurement of backside and front side electrodes, especially of ITO (IWO) electrodes for HJT, and resistance testing for TOPCon solar cells.
For thin-film PV technology, SURAGUS' sensor solutions are widely used and recognized by CIGS, CdTe, amorphous Si and emerging PV, including perovskites, manufacturers and researchers to characterize thin-film layers by measuring the sheet resistance of various front and backside electrodes (AZO, ITO, FTO, Mo etc)
In the Greater China region, SURAGUS provides inspection and quality control solutions to customers in China, Singapore, Thailand, Vietnam and other countries. Under the current carbon neutral policy in China, the PV developments are changing rapidly and the cell efficiency is constantly breaking new records. This is truly encouraging for the sustainability of environment, and as a key player in the PV supply chain in China, SURAGUS is morally committed to contribute towards this cause.
According to Dr. Bo Chen, Business Development Manager, "SURAGUS is catering to the solar industry for more than a decade and has reached a significant footprint through strategic engagements with many industry-leading domestic PV OEMs in China. The high quality of our products combined with our timely support has won the trust of our customers. It is a great privilege that SURAGUS' innovations and developments in eddy current technology for PV were acknowledged by Shanghai Solar Energy Society (SSES) and we were deemed the winner! We sincerely thank our customers, partners and employees in China and Germany for this great achievement."