EddyCus® TF map 5050 Series – Contactless Sheet Resistance, Metal Layer Thickness, Resistivity and Anisotropy Imaging Device
The Eddy­Cus® TF map 5050 Series is a high-res­ol­u­tion non-contact ima­ging device series for sampling areas up to 500 x 500 mm (20 x 20 inch). The bench-top device auto­mat­ic­ally meas­ures at vari­ous meas­ure­ments points, typ­ic­ally with a pitch in X and Y of 1 mm (40 mil) gen­er­at­ing ac­cur­ate map­pings. The system acquires hundreds of measurements per second on the fly resulting in high resolution images containing up to 250,000 measurement points per sample. The bench-top devices allow depending of its setup the precise imaging of metal thickness, sheet resistance or electrical anisotropy. The resulting property images provide a deep insight to layer homogeneity and defect density and hence offer a profound basis for material and process optimization. Applications involve quality assurance for sputtering, evaporation, ALD, CVD, electroplating or doping and annealing processes.
Highlights
Non-contact imaging
Fast and accurate
High resolution imaging with 1 mm pitch (alternatively 0.25 to 10 mm)
Sampling areas of 500 x 500 mm (20 x 20 inches)
Advanced layer uniformity analysis and defectoscopy
Characterization of hidden and encapsulated conductive layers
Profound software-integrated analysis functions (line profiles, histogram analysis, selective area analysis, statistics)
Hybrid systems (e.g. combined electrical and optical imaging)
Systematic quality control, incoming inspection, inspection of outgoing goods
Types
Devices are offered with different sensor configurations using eddy current sensors of optical components.
Combinations of the above variants are available as well (e.g. 5050SR-MT-A).
Characteristics
Technology: non-contact eddy current sensor
Sampling area: 500 x 500 mm
Recommended sample sizes: 1 to 20 inch / 25 mm to 500 mm 
Measurements:

Sheet resistance range: 0.1 mOhm/sq to 10,000 Ohm/sq
Metal layer thickness: 1 nm to 2 mm (other on request) 
Electrical anisotropy: 0.3 – 3

Pro­cesses assessment

De­pos­ition (sput­ter­ing, evap­or­a­tion, ALD, CVD, elec­tro­plat­ing, print­ing, cast­ing etc.)
Dop­ing and an­neal­ing
Ab­la­tion (etch­ing, pol­ish­ing, laser, EDM etc.)
Soft­ware and Device Con­trol
Easy to use setup

Scanning size selection
Measurement pitch selection
Starting measurement

Real-time data aggregation
Close measurements to the edge

Automated scan or manual measurement

Easy-to-use statistical analysis options

Selective image analysis
Line profile analysis
Histogram analysis
Statistics (min, max, average, variance)

Export

Image export using different color schemes
PDF report (example report)
Data export as txt for import into excel or origin

Data storage, data loading and reanalyzing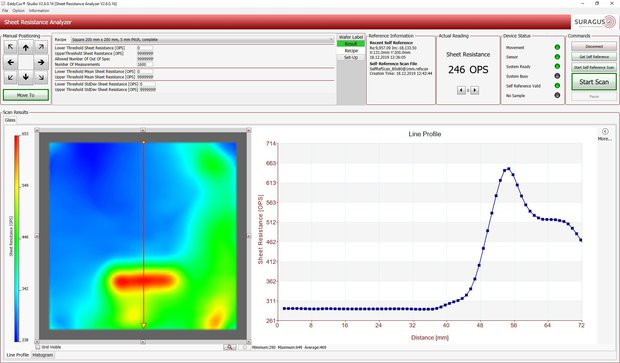 Please select your preferred measurement parameter below